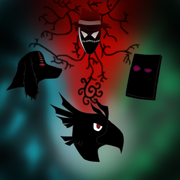 Calamity Hound Overture, Cascade Ominence, Benign Overlord is written by Doctor D. It's main character is Trace Abigail, a human who was turned into a black chocobo by "Morgan Freeman".
Its canon status is: Cancelled.
Main Characters
Edit
Protagonist aka Hero
Sidekick(s)
Rival(s)
Antagonist(s) aka Villain(s)
Make it clear, short, comprehensive and to the point.
Crossovers
Edit
Ad blocker interference detected!
Wikia is a free-to-use site that makes money from advertising. We have a modified experience for viewers using ad blockers

Wikia is not accessible if you've made further modifications. Remove the custom ad blocker rule(s) and the page will load as expected.