The world where Chess Game of the Gods takes place.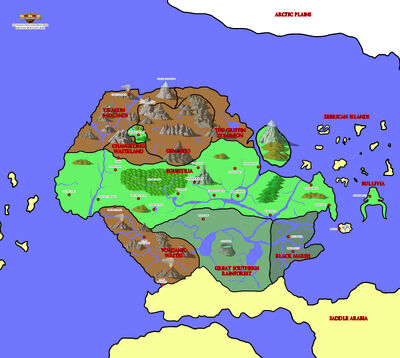 Bullivia
Equestrian Continent
Black Marsh
Changeling Wasteland

Castle Midnight (Tirek's Castle)
Great Battlefield
Old Unicorn Kingdom
Oasis
Volonia City

Crystal Empire
Equestria

Appleloosa
Baltimare
Canterlot
Coltogne
Everfree Forest

Castle of the Royal Pony Sisters

Fillydelphia
Froggy Bottom Bog
Gallopdin (Place of magical study)
Gallopoli
Hoofington
Las Pegasus
Mustang
Pine Falls
Ponyville
Smooth Grove
Stalliongrad
Tailton Springs (Currently Destroyed)
Trottingham
Whitetail Woods

Great Southern Rainforest
Volcano Waste

Port Oblivion
Port Redstone
Frozen North
Southern Continent
Cursed Salt Plains
Reef Belt Sea
Saddle Arabia
Wild Current Sea
Zebrica
Zero Point
Southern Dunes Zebrican Islands
Gear Grotto
The Ring Sea
Rej
Other Locations
Edit
Ad blocker interference detected!
Wikia is a free-to-use site that makes money from advertising. We have a modified experience for viewers using ad blockers

Wikia is not accessible if you've made further modifications. Remove the custom ad blocker rule(s) and the page will load as expected.