If you want to make a character or a chesspiece page, you can (but don't have to) follow this guidelines: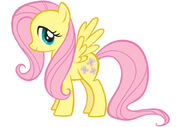 Fluttershy
Name
Fluttershy
Alias
Dame Fluttershy DragonHeart
Characteristics
Race
Pegasus
Birthday
asd
Age
asd
Gender
Female
Height
asd
Weight
asd
Domain
Residence
Ponyville
Relatives
Barricade Shy (Mother)
Allegiance
asd
Character
Edit
<Character> is the protagonist of <story>,
A story written by <author>.
He is a chesspiece controlled by <god>, who turned him into a <race>. 
His/Her canon status is <status>.
<Add more info here if you want to>
Appearance
Edit
Additional Features ie. Claws, Tail, Whatever is Needed etc.
Personality
Edit
Powers and abilities
Edit
The Stare: An ability that lets her intimidate and dominate others by staring them in the eyes. It is unknown what it takes to resist it as even a red dragon was overcome by the ability.
Equipment
Edit
Items
Element of Kindness
Weapons
Name: Gaia Bell
Special Traits: When rung the bell summons nearby animals to aid the summoner.
Relationships
Edit
Appearance in Stories
Edit
Deutrocanon
Edit
Non-Canon/Unsorted
Edit
Cancelled
Edit
You Know What to Put Here
   "Yay."
   "You will love me!"
Ad blocker interference detected!
Wikia is a free-to-use site that makes money from advertising. We have a modified experience for viewers using ad blockers

Wikia is not accessible if you've made further modifications. Remove the custom ad blocker rule(s) and the page will load as expected.